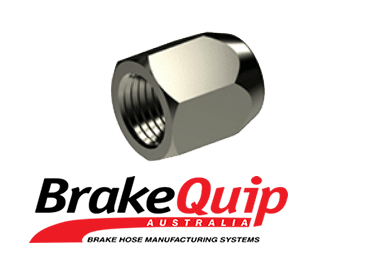 | Part # | Thread | Thread depth | hex | tube | Weight | Price/Quantity |
| --- | --- | --- | --- | --- | --- | --- |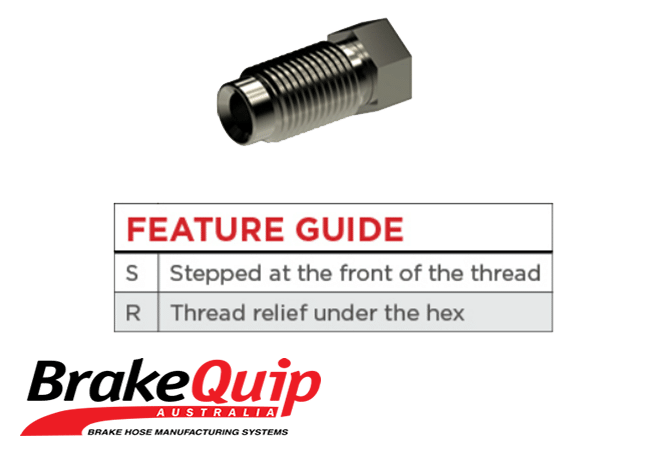 STAINLESS STEEL MALE/TUBE NUTS
FEATURE GUIDE
"S" Stepped at the front of the thread
"R" Thread relief under the hex
LUBRICATE STAINLESS STEEL THREADS
TO AVOID THREAD PICK UP                                       
| Part # | Thread | Feature | Thread length | Hex lengh | Tube | Weight | Price/Quantity |
| --- | --- | --- | --- | --- | --- | --- | --- |

TUBE NUTS / MALE
Many BrakeQuip tube nuts have two distinct features for easy installation & removal.
(S) THE SMALL STEP AT THE FRONT OF THE THREAD
This ensures easy installation by the step acting as guide & making it easier to start the thread.
The step also gives the thread clearance which eliminates the problem of flaring out when over tightened. If this happens, the nut can be difficult to remove & can sometimes destroy the female thread when removed.
(R)THREAD RELIEF UNDER THE HEX
Apart from looking more professional, this allows the nut to be screwed down right up to the hex if necessary.
FEATURE GUIDE
S- STEPPED AT THE FRONT OF THE THREAD
R-THREAD RELIEF UNDER THE HEX
| Part # | Thread | Feature | Thread length | Hex lengh | Tube | Weight | Price/Quantity |
| --- | --- | --- | --- | --- | --- | --- | --- |